May 26, 2023
Leading with Kindness: The Sudbury Catholic District School Board Recognizes This Year's Winners for the Chairperson's Award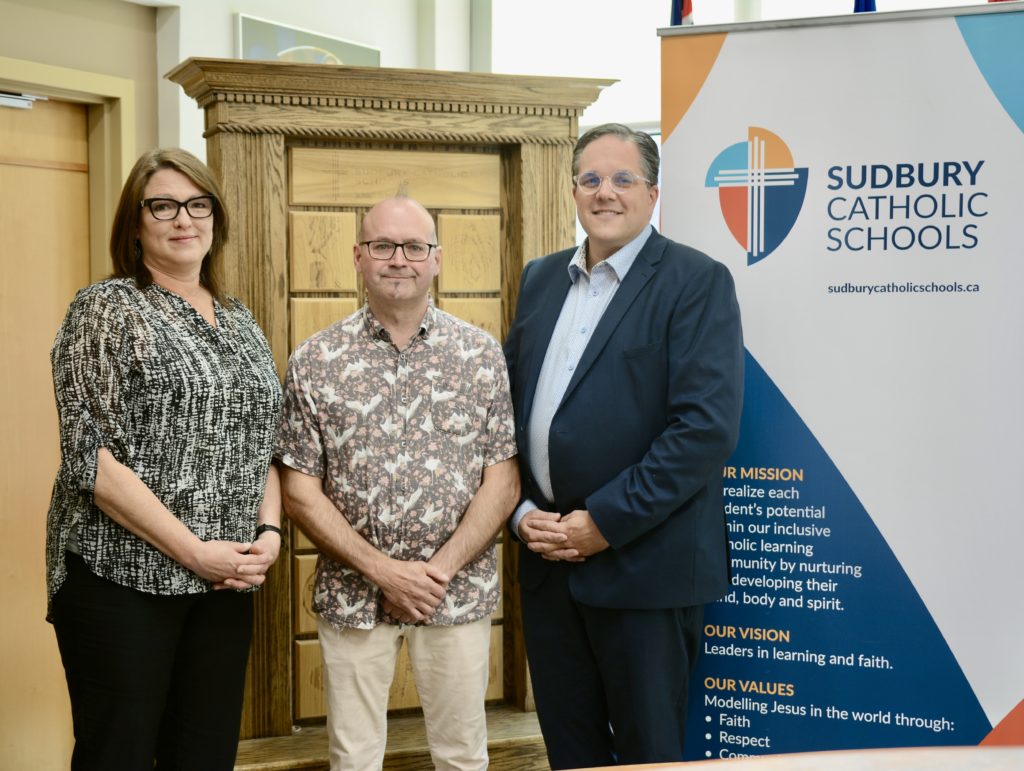 Each year, the Sudbury Catholic District School Board recognizes employees who embody the Board's mission, vision and values. The Board is pleased to recognize Maurice Martin and Sheri Neuts as the two recipients of the 2023 Chairperson's Award.
Maurice Martin is a Grade 2 Teacher at St. John School. He is described as a positive, kind, and generous teacher and is well recognized by the students, staff, and families as a leader. Maurice fosters a sense of belonging and inclusivity – he ensures that all students feel welcomed and valued. As a teacher, he leads by example and teaches his students how to be collaborative contributors and a responsible and caring member of society. Maurice is also seen as an active member of the St. John School community – he is regularly involved in planning faith celebrations, assisting with school assemblies, and organizing special events such as Franco Fun days. He continually supports his colleagues and always makes time to listen, lend a hand, share a story, and have a laugh. Maurice makes learning fun for all and is well respected by all who work and learn alongside him.
Sheri Neuts is an Educational Assistant at St. Charles Elementary School in Chelmsford. Sheri is seen as the 'face of friendship' at the school and her loyalty, kindness and sincerity have resulted in long lasting connections with students, staff, and families throughout the years. She is credited by her colleagues for creating a safe space for learning. Sheri works hard each day to showcase and celebrate the unique gifts and talents of all students. Whether helping to organize a collaborative school activity, or dedicating extra time to learning how she can support students – Sheri is aware of the needs of the students and her fellow colleagues. She is the first person to volunteer to organize an event or assembly and is always available to support staff members. Sheri's positivity and generous spirit shines through, and she is an invaluable member of the St. Charles School community.
"We are very honoured to celebrate this year's Chairperson's Award recipients. As Board Chair, it is such a privilege to take the time to recognize Maurice and Sheri – both of whom are well-respected by their school communities and by the Board as a whole," said Michael Bellmore, Chair of the Board of Trustees. "They each embody our mission and vision effortlessly, and are proof that leading with kindness and generosity creates a more positive and nurturing learning environment for all. On behalf of the Board of Trustees, we thank all those who nominated individuals this year, and we are especially grateful to our two recipients for their ongoing commitment and service to our school system and to Catholic education." This year's award winners will be recognized at the annual Employee Recognition Event happening on June 6, 2023.